TROCAIRE VISIT TO HONDURAS
On November 3rd, I travelled with a group from Ireland to visit Honduras.  The trip, organised by Trocaire, was intended to introduce us to some of Trocaire's projects and people there.  The Lenten Campaign 2017 will feature Hounduras and we had the opportunity to visit the location and people around which the campaign will centre.  Over the few days I kept a record of our visit on (www.sherlockshome.ie) and though it falls well short of telling the full story of our visit, I'd like to think it goes someway towards doing so.  The words and images below are taken from the blog but I thought I'd share them with the visitors to our Diocesan Site.
I hope you enjoy what follows and moreso that come Lent 2017, we might all remember these few days.
Vincent Sherlock
17th November 2016
HONDURAS DAY 1
I don't know where I am right now!
Well that's not altogether true. I'm in the sky somewhere between Houston and Tegucigalpa, Honduras. I'm sitting at the window seat and occasionally look out at cloud formations and the ocean beneath. I'm part of a group that is on its way to visit Trocaire workers and some of their projects and people in Honduras. I am well out of my comfort zone!
Feeling a bit nervous but grateful too for the opportunity to see and hopefully be touched by another side of the world and the lifestyle.
Our group is ten – two of Trocaire's Irish based staff, two women (from Monaghan and Limerick), a permanent deacon from the diocese of Elphin and five priests. Most of them I had not met until a briefing day in Maynooth a few weeks ago. Have to say, it's a very pleasant group and easy company to be with.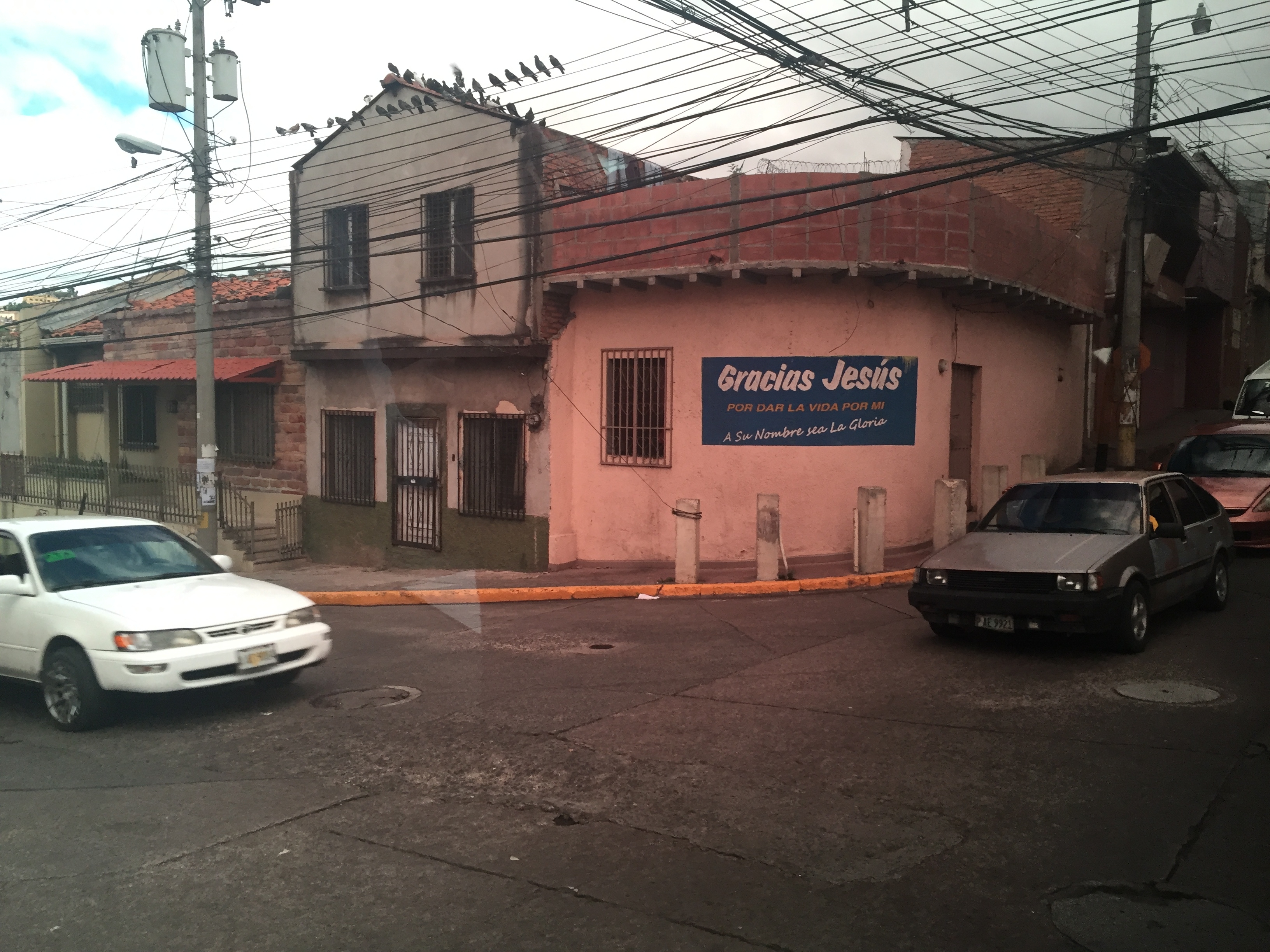 After we had lunch our group travelled to the outskirts of Teguciglapa to visit a Youth Group and its leaders.  Here we met a lively group of teenagers who spoke to us of the importance of this group in their lives.  It gives them an outlet and an alternative to gang culture and less savory involvements.  They learnt too something of respect for one another, not least between boys and girls, men and women.  Trocaire helps fund this Youth Group and to provide training for the dedicated leadership of the group.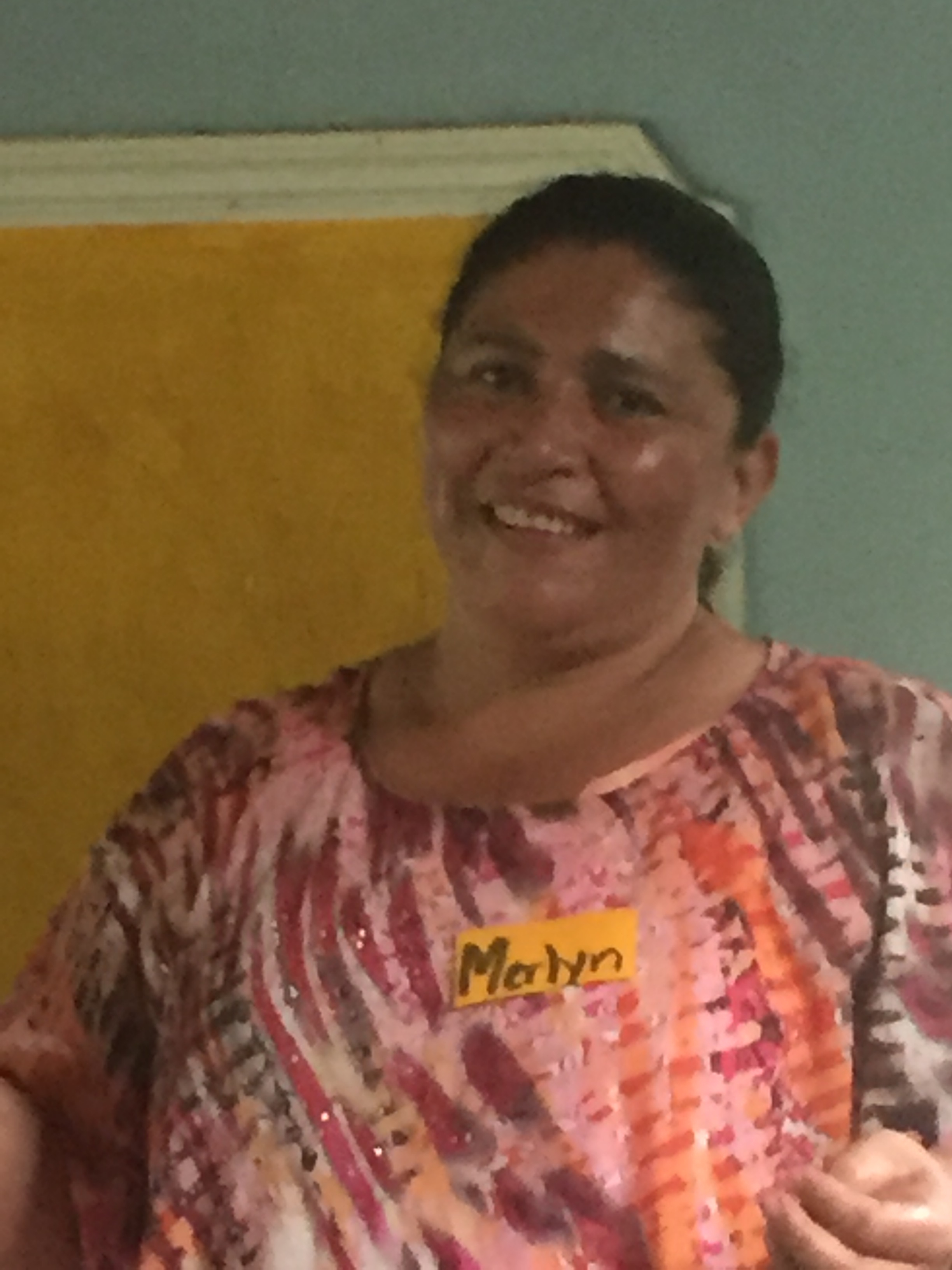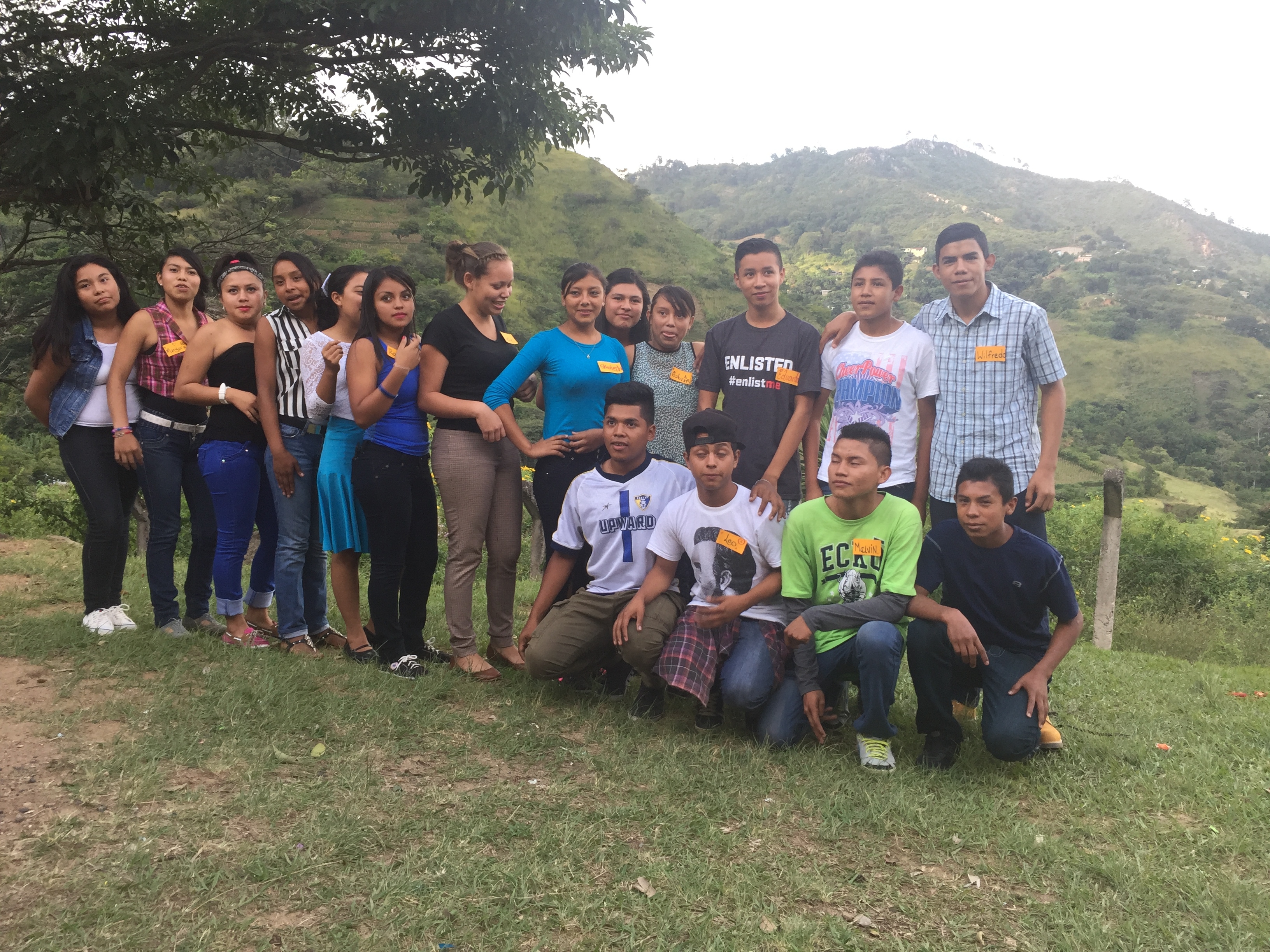 HONDURAS DAY 2
An early start had our group leaving hotel at 5.50am and heading for the airport to take a flight from the capital to San Pedro Sula.  In three hired cars we travelled to Omoa Cortés, a small community of some 85 families that is situated on the shore line of the Caribbean.
All things being equal it would be an idyllic and much sought after place to live but the uncertainty of the ocean combined with an extended rainy season makes it a nightmarish place to live.  Houses, homes – basic in construction, dot the shoreline and run the constant risk of flooding if not total devastation.  When floods come the only road for access can become unusable and dangerous, effectively cutting the people off completely, resulting in undoubted hardship and death.
We were met in a Community Centre that had been the local school.  Surrounded by grass and showing the signs of flooding, the centre was not readily accessible.  That said, a very large gathering met us there. You could not but be taken by and impressed with their resilience and graciousness.  The loveliest of people. Language barrier aside, they communicated a lovely nature and were unquestionably welcoming of us all, especially the representatives of Trocaire, who have been a source of strength and solidarity.
One of the ways Trocaire has helped is by co-sponsoring with the local municipal council and other religious and non-profit agencies, the development of a canal that can link the inhabitants with safety.  One man spoke of this and whilst grateful for the hope this offers his people he made the point that the boats they have can only take twenty-five people at a time and the return journey is ninety minutes. This time exposes his people to heightened risk.
They asked us to encourage support for their plight through supporting Trocaire's Lenten Campaign which, in 2017, will  focus on this community and its specific needs. We had the opportunity to meet the girl who will be featured on next year's campaign box and literature.  A delightful child and lovely family. Will come back to this again.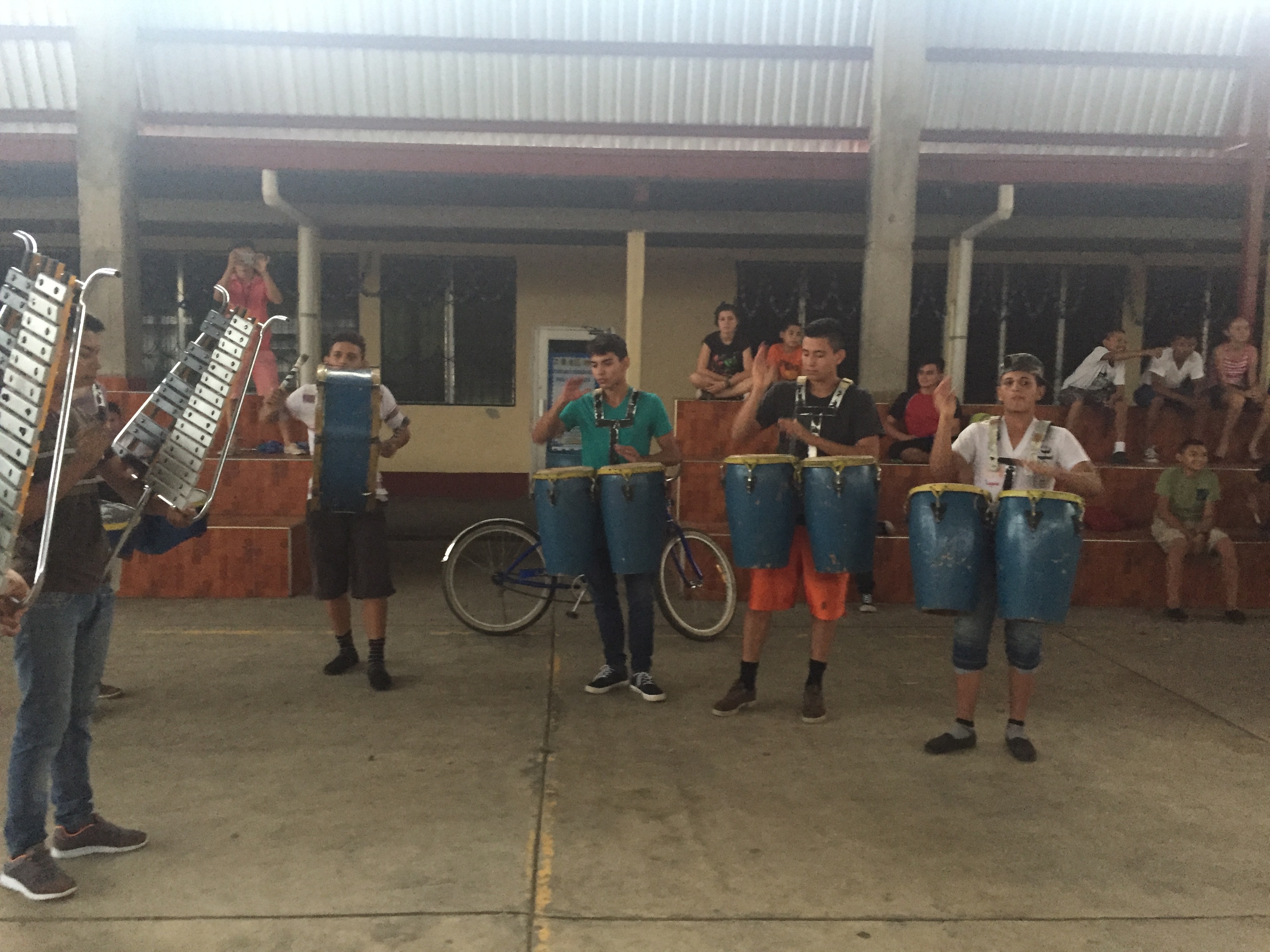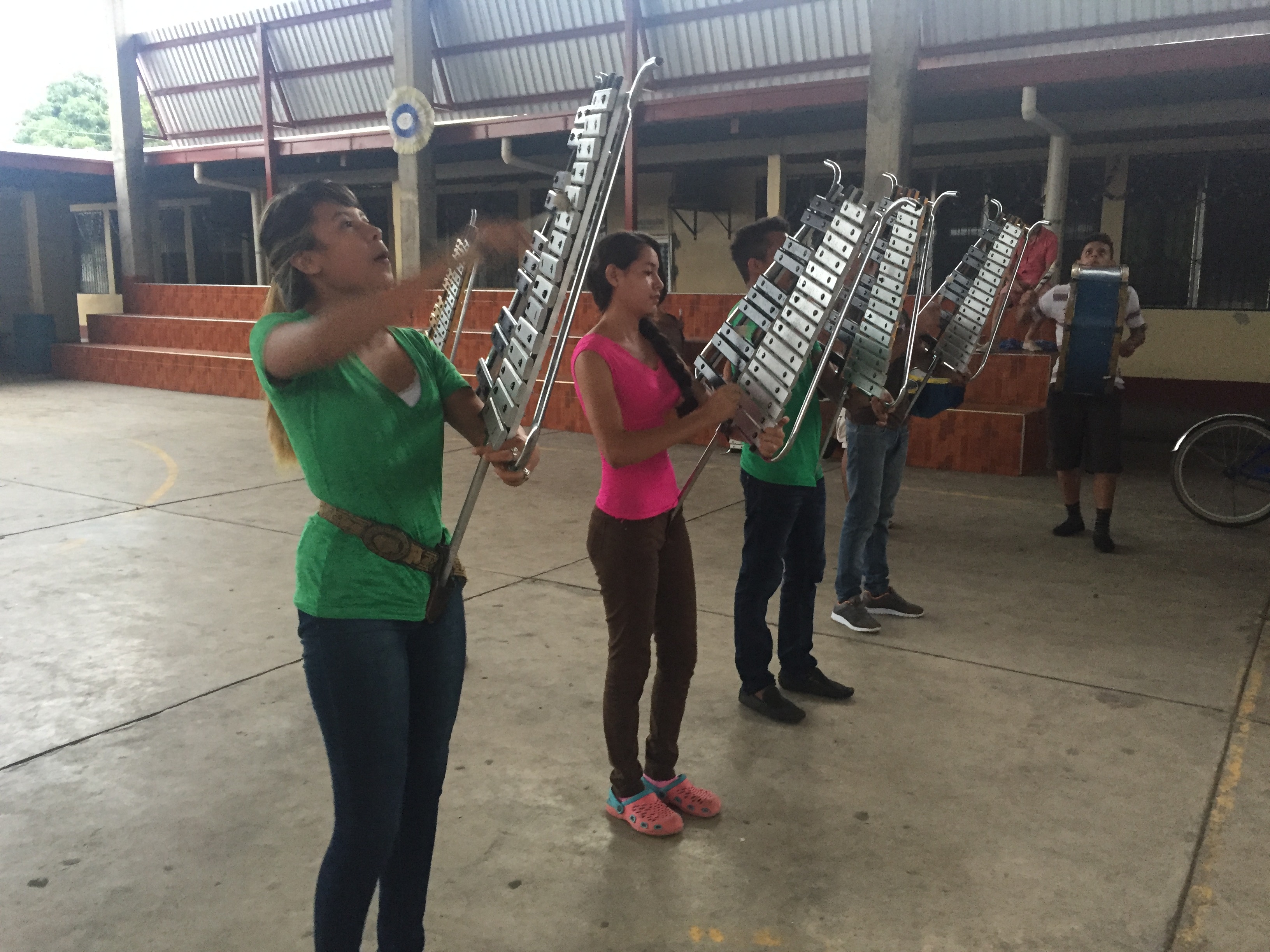 Later in the evening we visited Cuyamel, the name of a town and river.  We met with a committee that is trying to reclaim its river from an international company who has taken control of its rights (committee would say due to corruption) and this has led to the devastation of the river.  It was a very impassioned presentation and the need for support for this community and the protection of the river were at its heart. "the war of the future ", one man told us, "will be for water" and it was hugely impressive to see so many committee members there, men and women and especially the younger people.
As we left that meeting we met a group of young people who had been practising  their routines for a marching band. Though they had finished their session, they agreed to play for us and played a number of pieces, the final one lasting over eleven minutes.  I hope to put it on YouTube but signal not good enough to do that now. Watch (literally) this space.

  HONDURAS DAY 3
Just attended Sunday Mass. a gentle and welcoming priest made us all feel at home. The church was large, unlike the congregation, and the atmosphere one of joy and worship.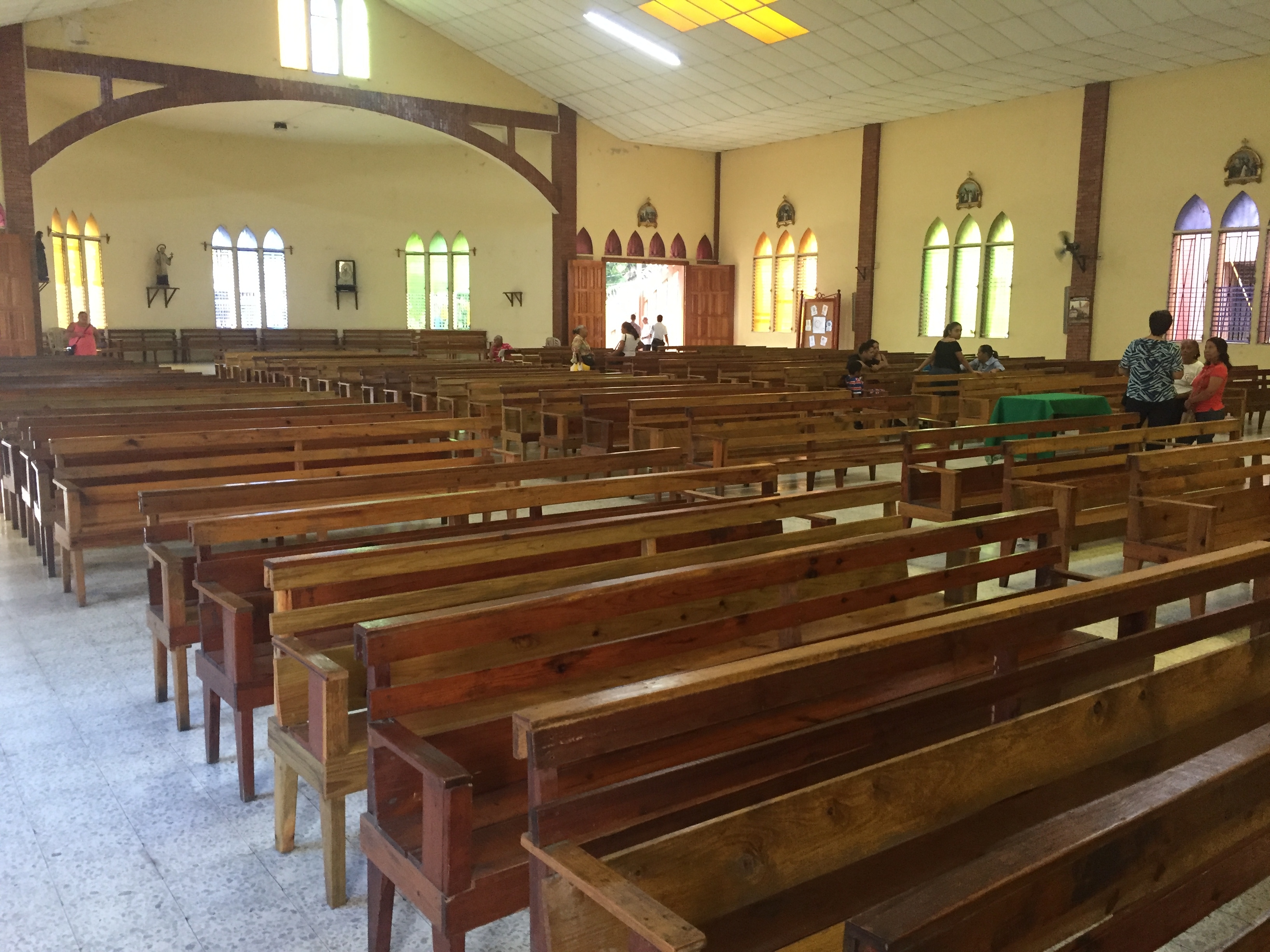 The priests in our group; Paul, Eddie, Dominic, Michael and myself concekebrated. The other members together with Trocaire staff were also present for what was an uplifting celebration of Eucharist.
After the Offertory gifts were presented a young couple stood at the foot of the Altar. The man cradled a baby and the priest went to them, took the baby in his arms and raised it to the Heavens and then showed the baby to the congregation. There was a round of applause that was more than the clapping of hands. It was pure welcome. Later we discovered the baby is forty days old and this is the ceremony of presentation.
At the Sign of Peace a small boy ran to the Altar and shook hands with us all. I thought this was an isolated incident and was pleased his parents didn't feel they had to run after him.  It wasn't! Every child in the church ran to the Altar and greeted us all. A lovely moment.
Eddie spoke on behalf of the group and, in Spanish, thanked all for the welcome and spoke of Trocaire's work.
A worthy celebration and glad to be part of it.
Later that evening we met with Bishop Michael Lenihan, a native of Co. Limerick and the first bishop of the Diocese of La Ceiba.  He has spent virtually all his priestly life in Central America and was good company and clearly committed to his calling to continue to serve the people of Hounduras.
HONDURAS DAY 4
We left for another early morning gathering today.  There's an injustice in there somewhere but I'll let it sit for now!!!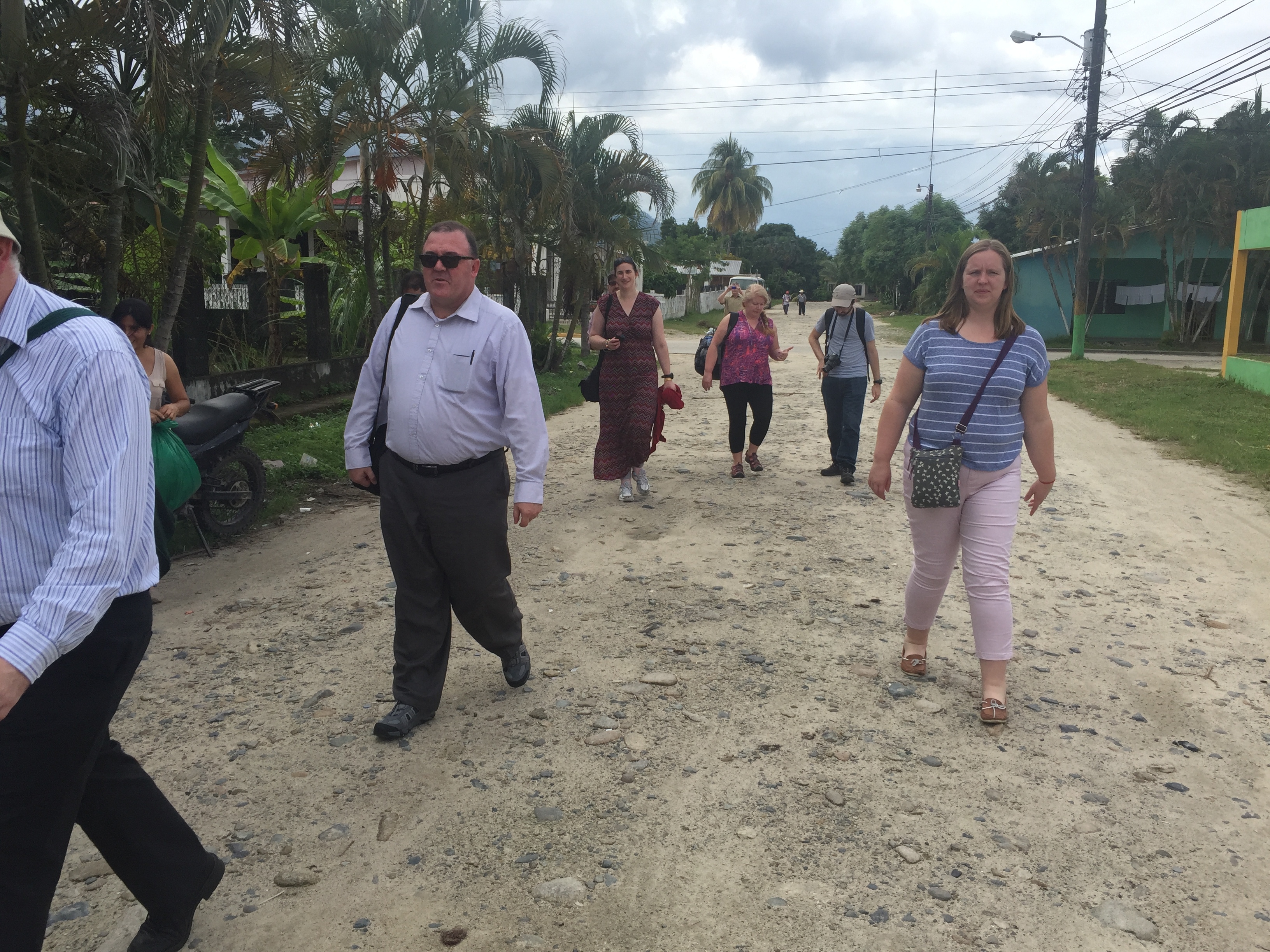 Our meeting was with a group that is protesting attacks on their territories, resources and human rights. The origin of the group is found in a 2008 hunger strike by a number of attorneys. Their concern was centred on corruption and inequality found in the justice system.
We met many people, including one lady who travelled a considerable distance that had her take a 3am Bus. This perhaps illustrates how important the group felt the need to share its concerns.
Much of the issue lies in large companies wanting to buy and ultimately control resources, land and amenities. The community vigorously opposes this and explained some of the courses of action that have been taken. In some cases where the companies secured the land, the army is now installed to prevent people accessing land and amenities they believe are their property.
They would claim limited success insofar as five regions (Municipalities) have declared themselves "Mining/Hydroelectric Free". They also were successful in having their rights, and abuse of same, included in the Universal Periodic Review reports.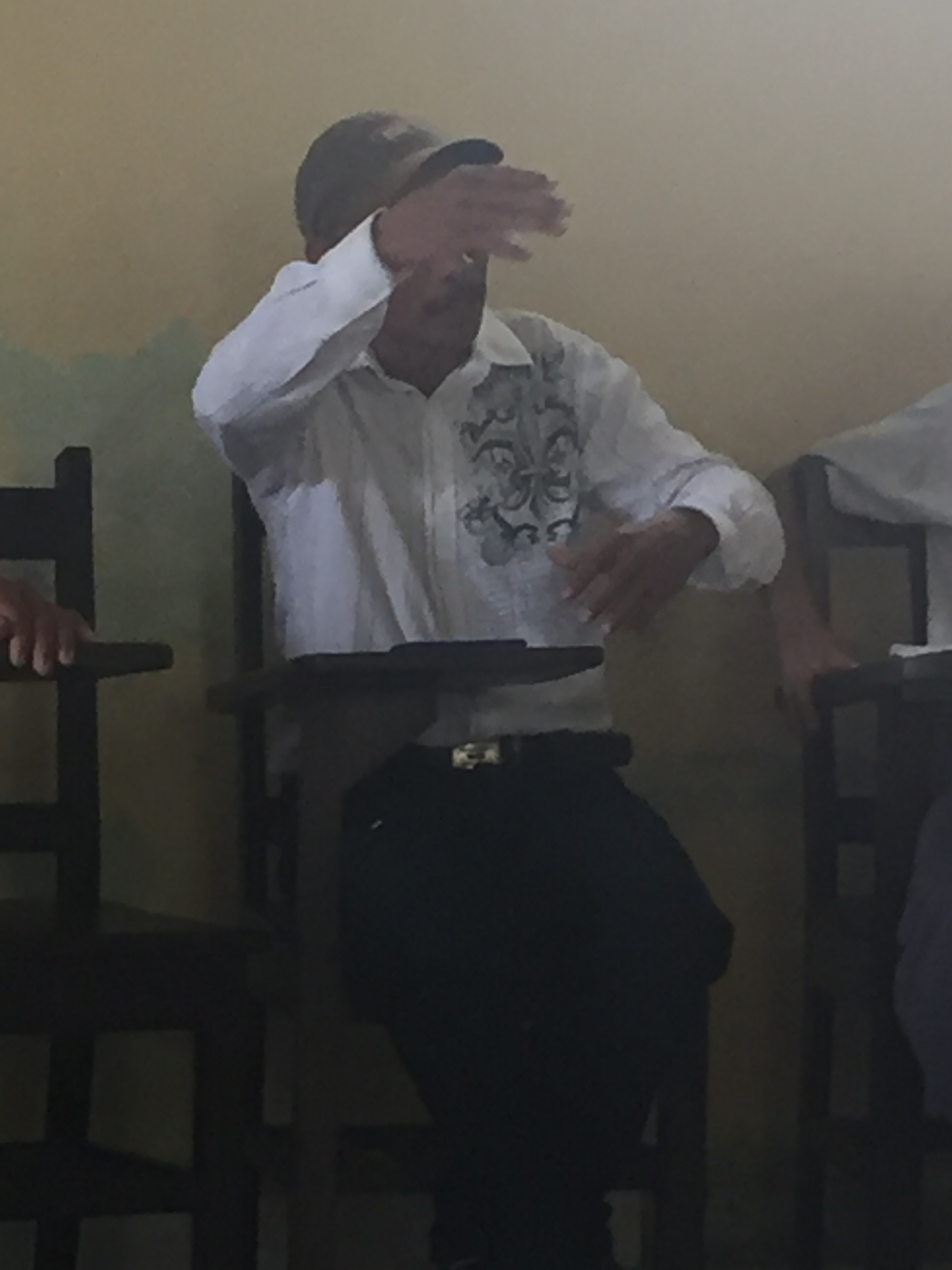 The sense you had was of a people empowered and energised by a common sense of purpose and, at the same time, lacking political clout because of exclusion from decision making around their own lives and the future they wish for their children into future generations.
The group is well aware of the power of international advocacy and retains the hope that some of its members may enter politics and have a voice where it can make a lasting difference. One speaker summed it up well when he said: "In this country, if not organised, no doors are opened."
Hospitable to the last, the group welcomed us and treated us to coffee and biscuits and the most refreshing fruit cocktail this side of perfection.  The role played by Trocaire and its partner is clearly significant and without doubt appreciated.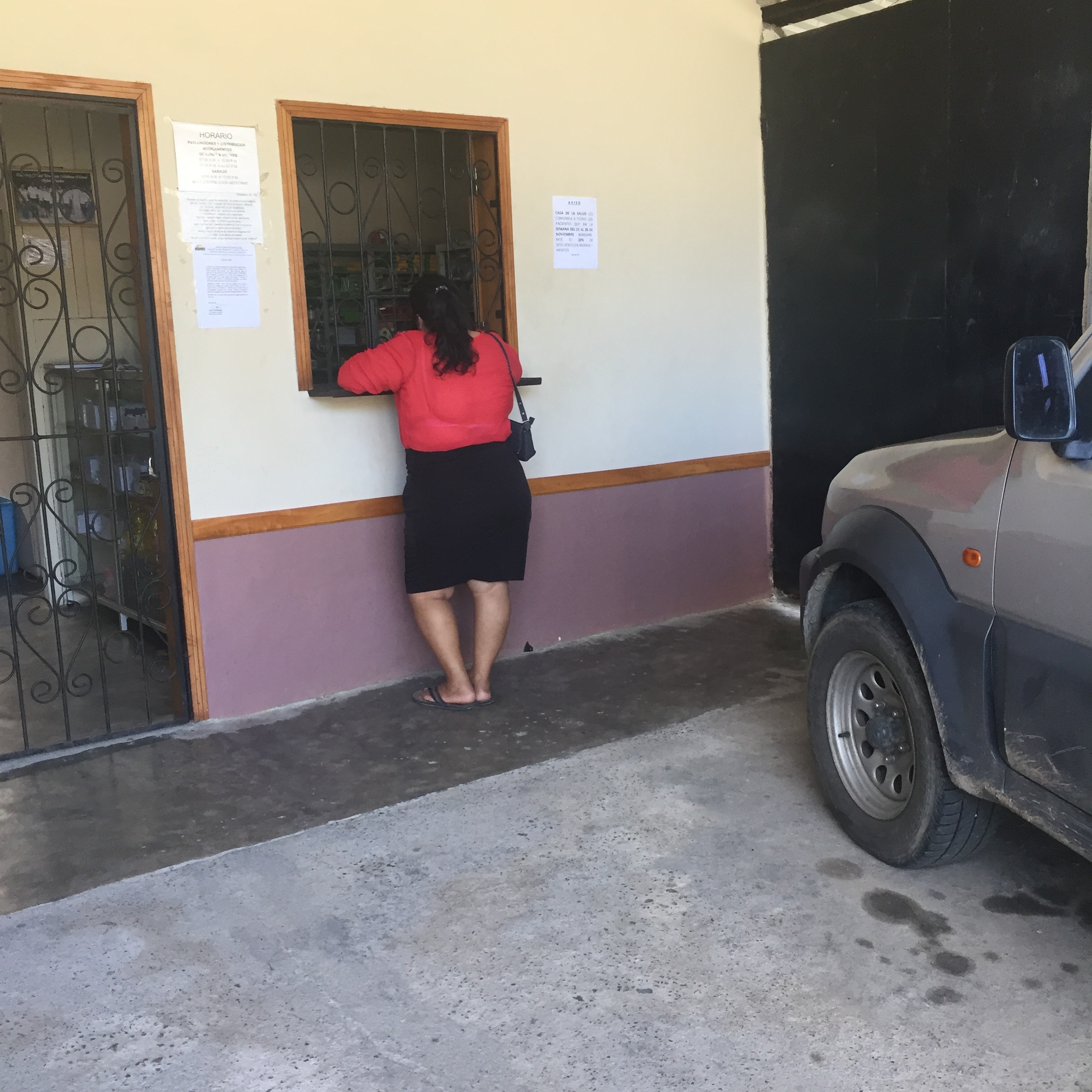 We also saw a clinic that specialises in Natural Medicine that is supported by the local diocese. Bishop Michael Lenehan, the Irish born bishop of the diocese, had spoke to us about clinics like these when he met with us on Sunday night.
I'm calling it a night. Can't imagine how tired the 3am Bus woman must feel!
Maybe that's the word of the day to "feel" for people
HONDURAS DAY 5
I am seriously tired tonight. We've been on the go for more than twelve hours – much of the travelling on roads that make some of my regulars feel safe and comfortable!
Our first stop was for breakfast and it was a welcome stop. The restaurant had a small zoo and behind our table were the most colourful and noisy birds!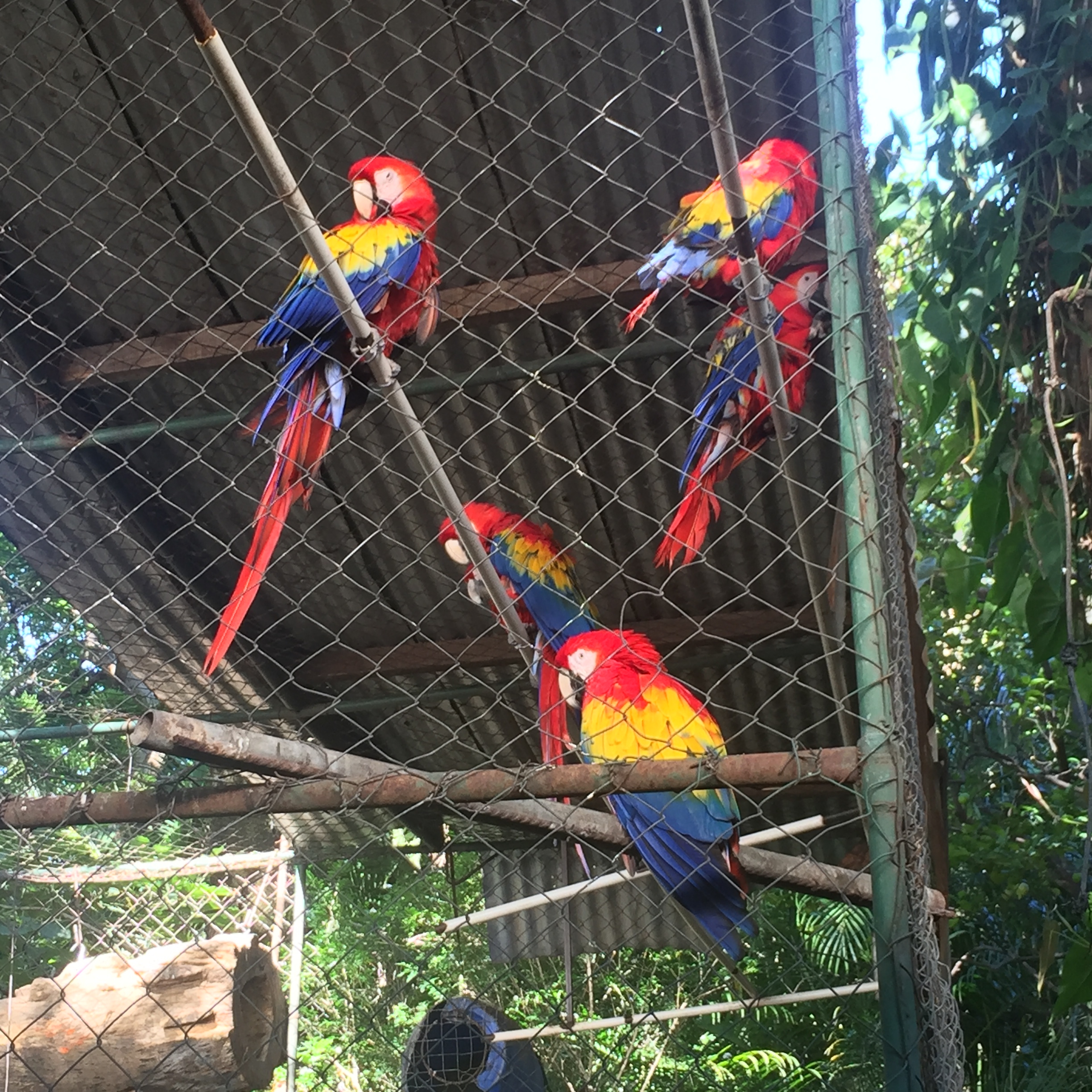 We travelled about 150km to the southern tip of the country and visited a lovely community.  The setting was incredible. We were taken out on a boat to view the coastline and visit a beautiful island.
In another place I'm sure that would sound like holiday stuff, a boat trip along an incredible coastline with breathtaking views. Alas, as we've discovered more times than one would want this week, things are not as they seem.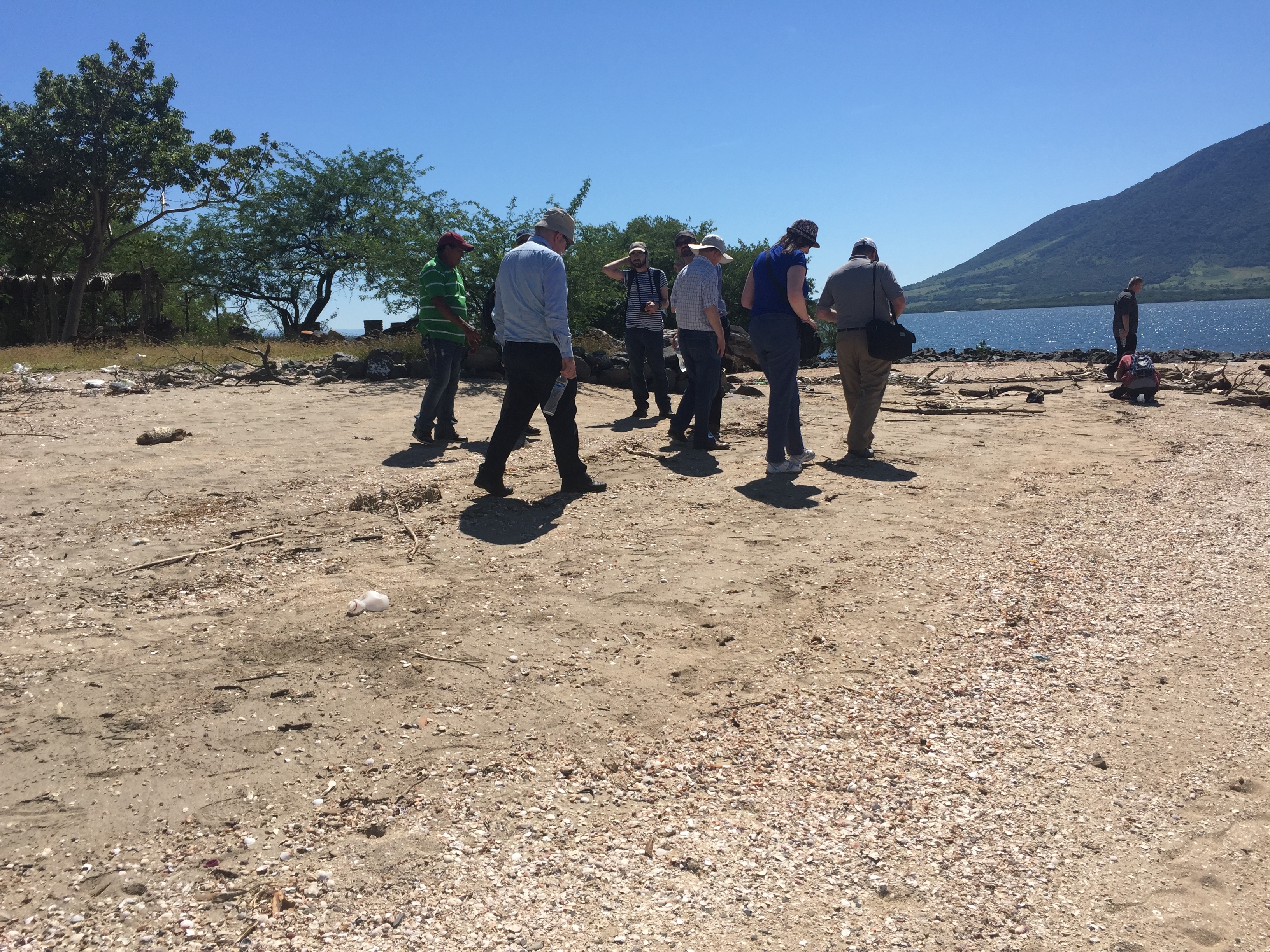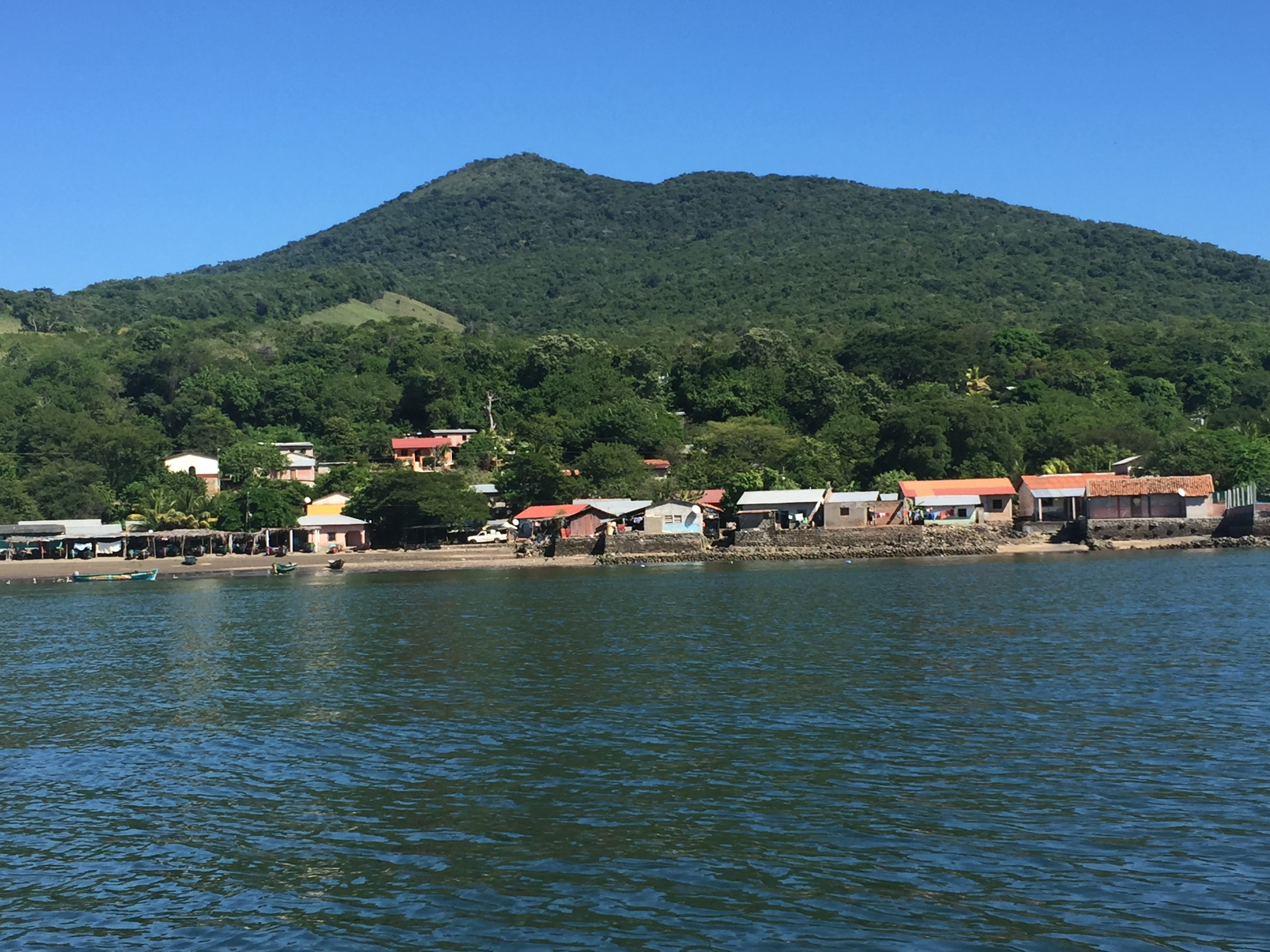 The island we visited belongs to the people but has been taken over by wealthy interests who effectively banned the people from visiting the island. Likewise the coastline. The properties I photographed belong again to the wealthy and the poor people, our travellling companions, are forced backwards into ever decreasing circles where their homes and land are confined to the minimum. Even that, if the powers have their way,  will be taken.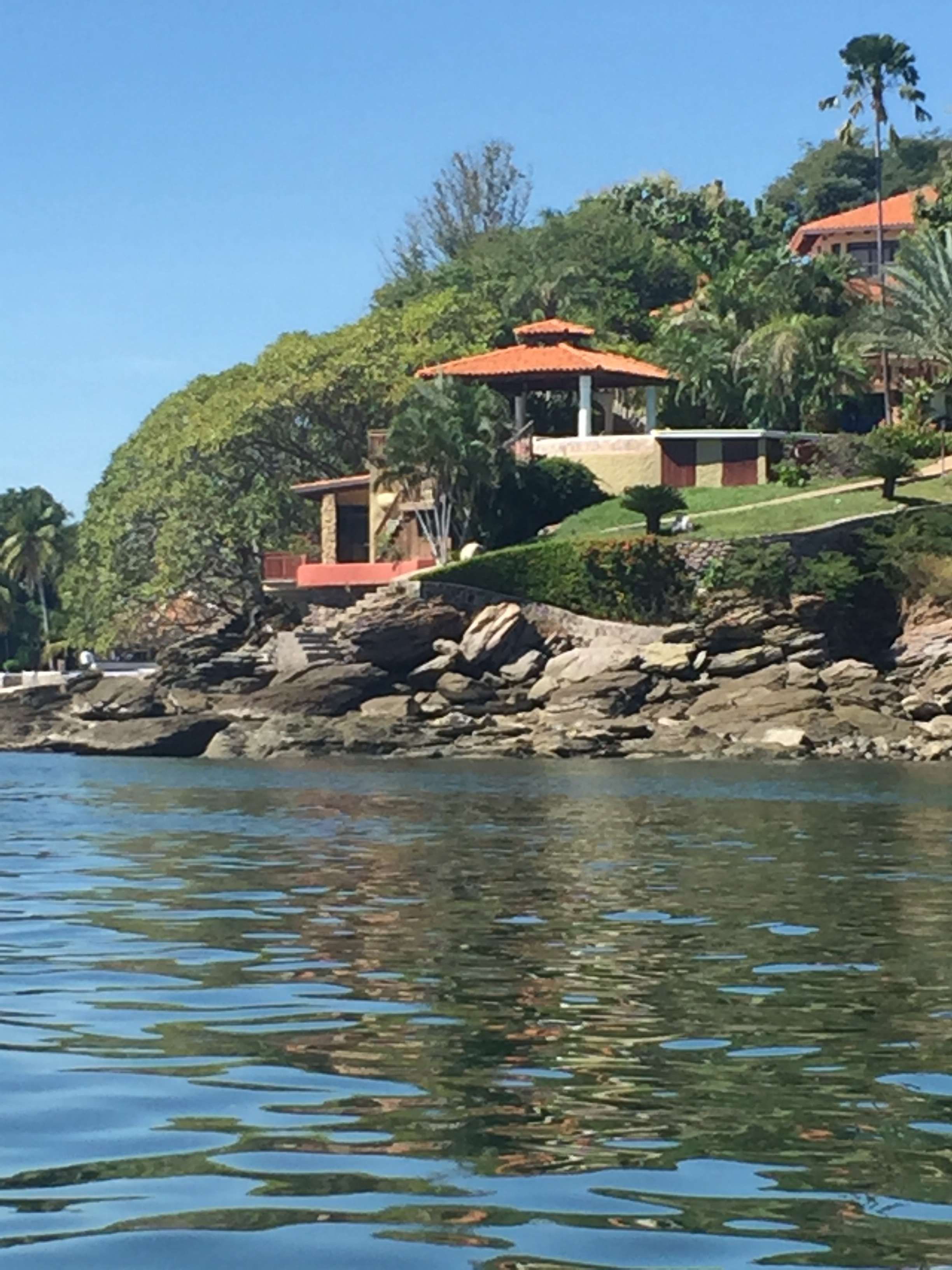 The sea front properties are, to all extents and purposes, holiday homes for the wealthy who visit on occasions. According to our locals they also seek to move backwards into the property of local people.
After a lengthy boat trip we came ashore and walked a rough path to a house and generous welcome. The roughness of the path was more than compensated for by the welcome of the people, a number now swelled by women, children, teenagers and men.
Some of the local women had prepared a banner to welcome us all. I can only imagine the time and effort that went into it. Later they presented it to Anna and Kevin the two Trocaire reps accompanying us from home.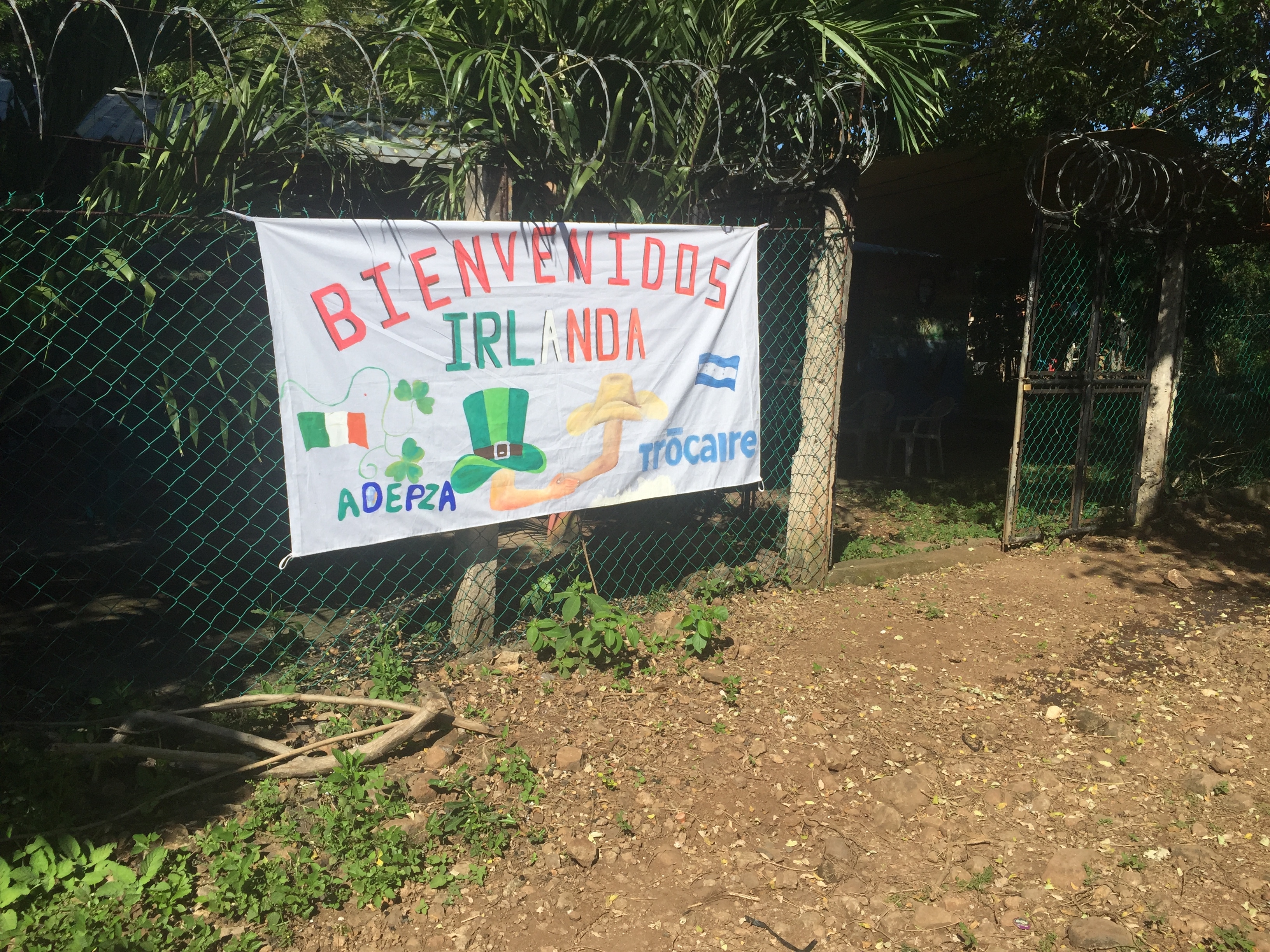 We spent some hours with this group. They told us about harassment, intimidation and some had been imprisoned for "trespassing" on their own property. We met.some people who have been imprisoned for trying to develop a car park. People found guilty and had to sign on twice a month in a distant police station. They were not always able for the journey so their accuser had them thrown in prison. Out now but signing on in a farther away Police Station. If they fail to sign they must return immediately to prison.
A woman told us that about two months ago she was approached by a man who told her that her property had changed ownership. She did not accept this. A few weeks later another man arrived and began to take photographs  When she asked why he told her the property was his. She did not accept this but he said if she did not leave freely, others (authorities possibly) would move her. He said she can take the harvest but after that the property will not be her's. The harvest is in December.  She told us she has no intention to leave her property and is ready for a fight.
The fight will be a legal one as, it seems to me, these are not violent or fighting people. They're lucky to have legal assistance and are upskilling themselves in the area of human rights and their securing. Local radio helps them share this up-skilling with others.
Trocaire in partnership with another agency has offered much support and counsel to this community.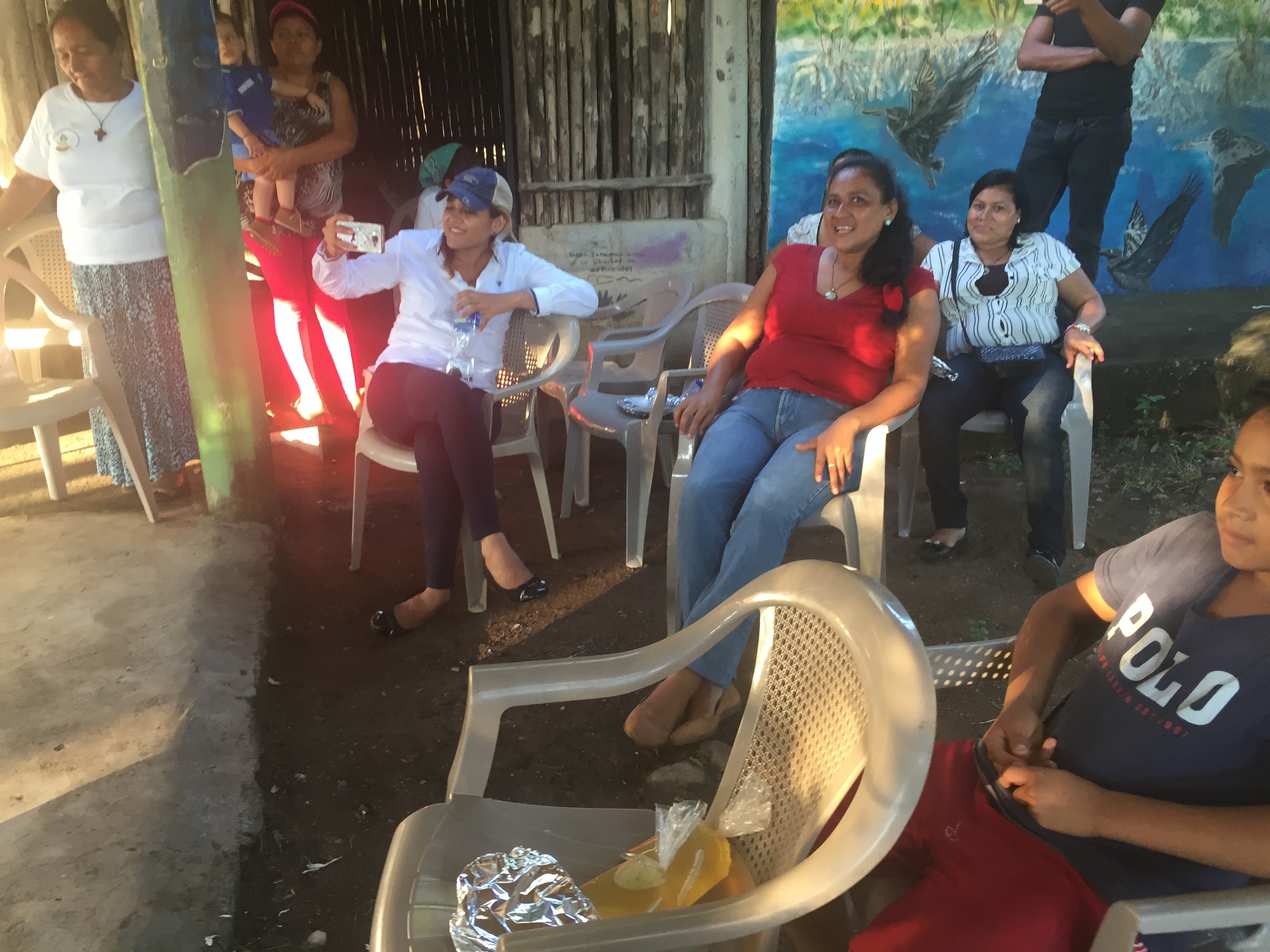 As we prepared to leave two of the community sang for us. They sang two songs, the second celebrating one of the Community's role as Minister of The Word.
We sang the Fields of Athenry for them and noted the similarity between the story they'd shared with us and the story behind the song.
It seems little has changed.
HONDURAS DAY 6
Day has begun with a group of women who are involved in promoting the protection of women against male violence and femocide.   It is estimated that 90% of women have experiences of violence at the instigation of men.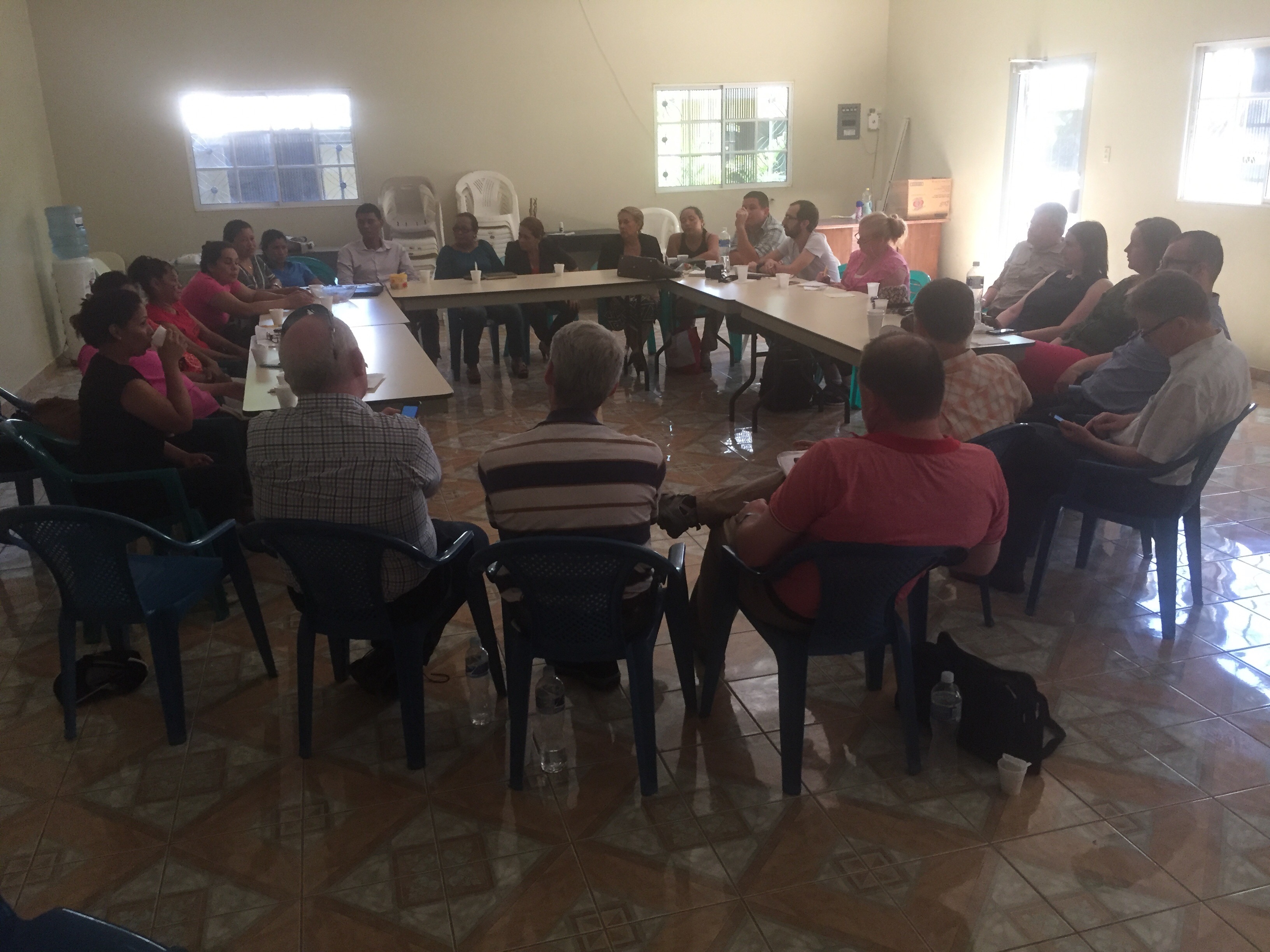 In 1991 the group designed and patented a solar powered oven. To this day, they manufacture and sell these to support their work.
Gratitude to Trocaire for support. This has helped extend the work to children and to schools, with a view towards prevention. Lot of work with people preparing for marriage .
Working with schools the group has discovered that children explain what they have learned and share how they will implement it. They do this through writing poetry and drama.
In the past many NGOs worked with women only but this group believes in wider outreach.
Their Projects include:
Important!
1. Violence against women
2. Food safety
3. Monitoring infants' weight development. They wantto increase to 5 year olds
4. Protection of nature
5. Protection of water sources
If woman is dependent on man, this leads to violence. Hence the need for education.
They have widened their involvement from women only to husbands, children and schools. Their belief is the power of education to improve the plight of women. They also work with couples preparing for marriage.
One of their chief concerns is around the high degree of impunity shown in cases where husbands kill their wives. This rate is as high as 93%.
They have conducted a survey but had limited support, by way of practical help, from the police. They will be presenting the results of their survey later this month.
Trocaire is among the partners offering financial support to this group of advocates.
Quoting from some of their own experiences it became clear this is a group of committed human rights defenders.
We met, later in the morning, with some farmers who told us of their struggle to protect their farms and livelihoods from the threat of mining.
Like the group we met earlier in the week they speak of limited success insofar as five municipalities have been declared mining and hydroelectric free. This has to be renewed however and there is always fear surrounding change of political power and/or corruption. They are anxious that there be international awareness of and support for their concerns.
Our final visit was to a local farm that is a shared project between a group of women.  They were so proud to show us their land and shared with us some of its produce.  They were proud too of their husbands who support them in this work.  Many of these men had attended the training programmes Trocaire helps funds to ensure better relations and understanding between men and women.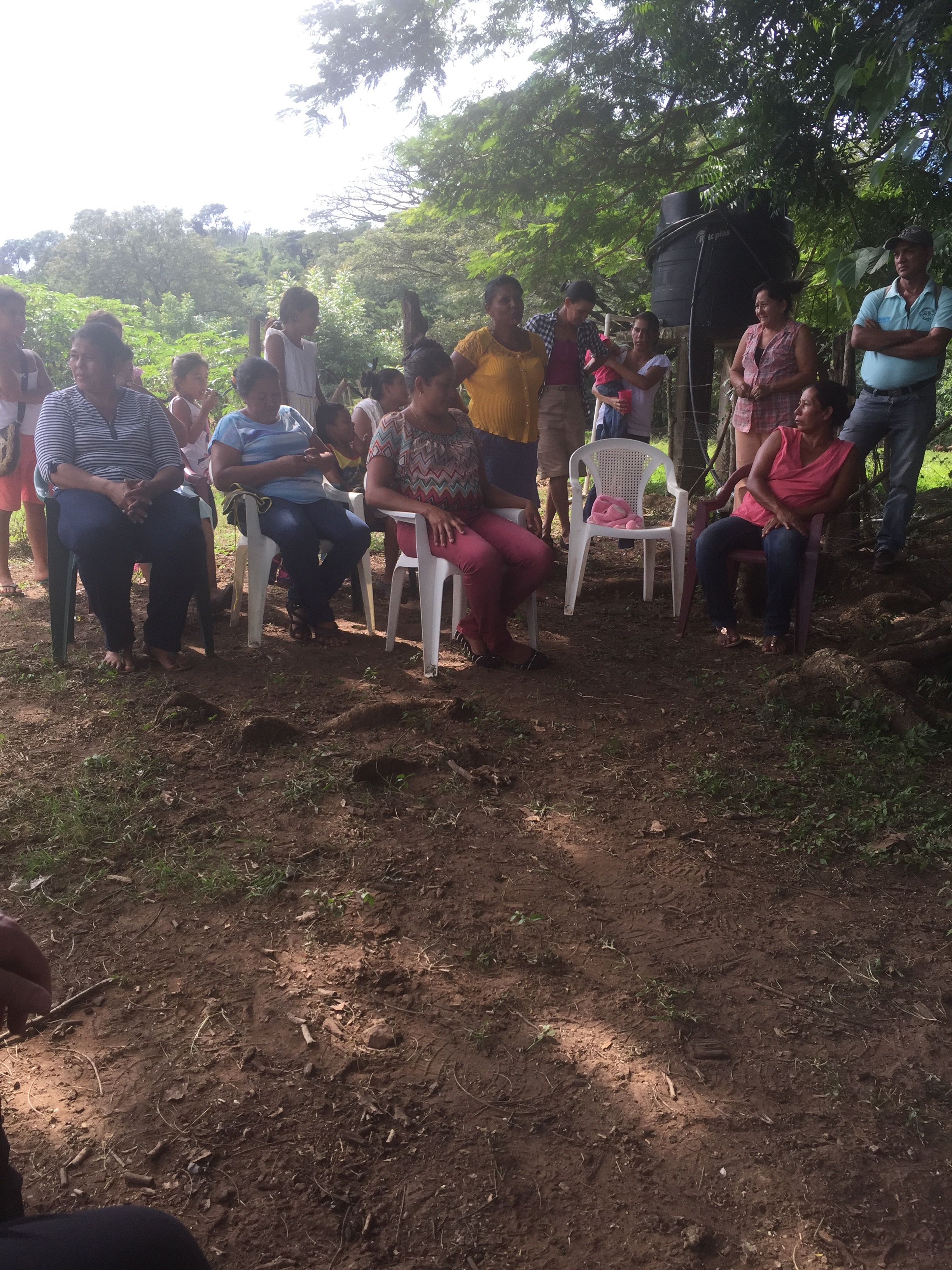 The sense of pride in themselves was clearly evident. They spoke of the crops they harvest and the chickens they produce. Chickens are passed from one to another to promote the number.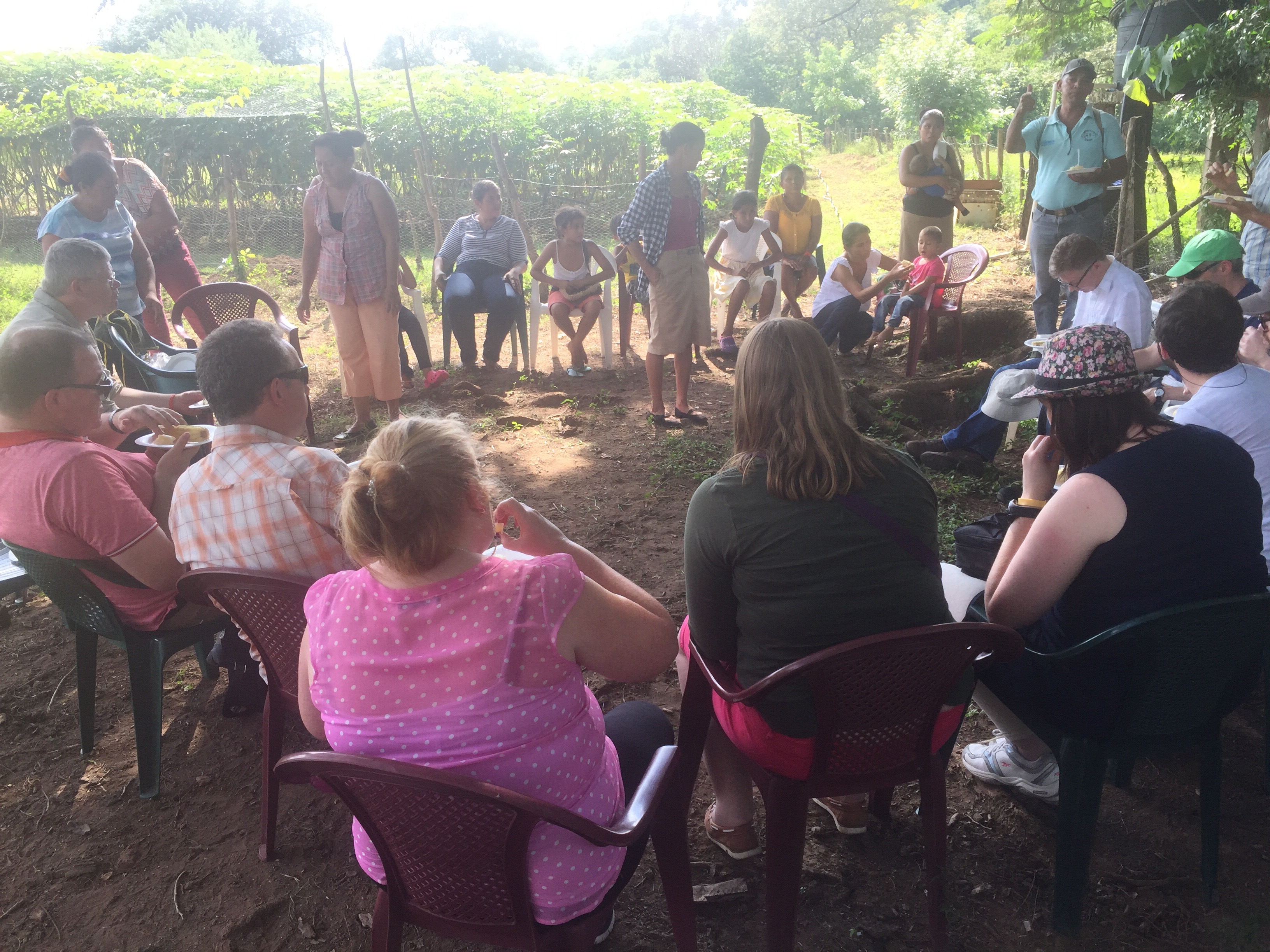 One of the women spoke to us about nutrition and weight control (pulled my stomach in as best I could!!) and especially in children. Through Trocaire's help she has received training in this area and monitors the children's weight, offering advice when required.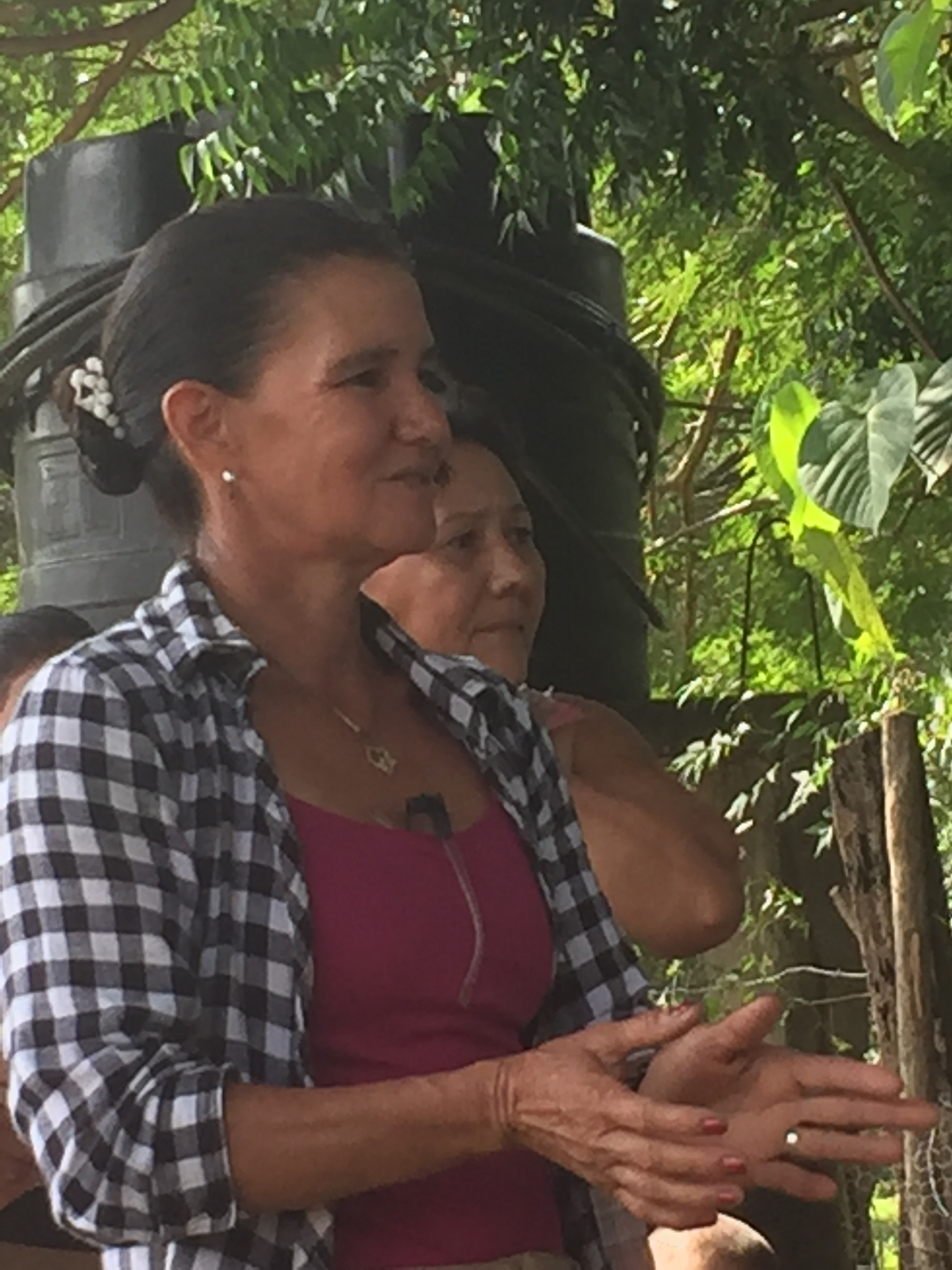 We were treated to some of their produce in the form of corn that was harvested today. It was really tasty and I enjoyed it very much.
as clearly did one of my travelling companions!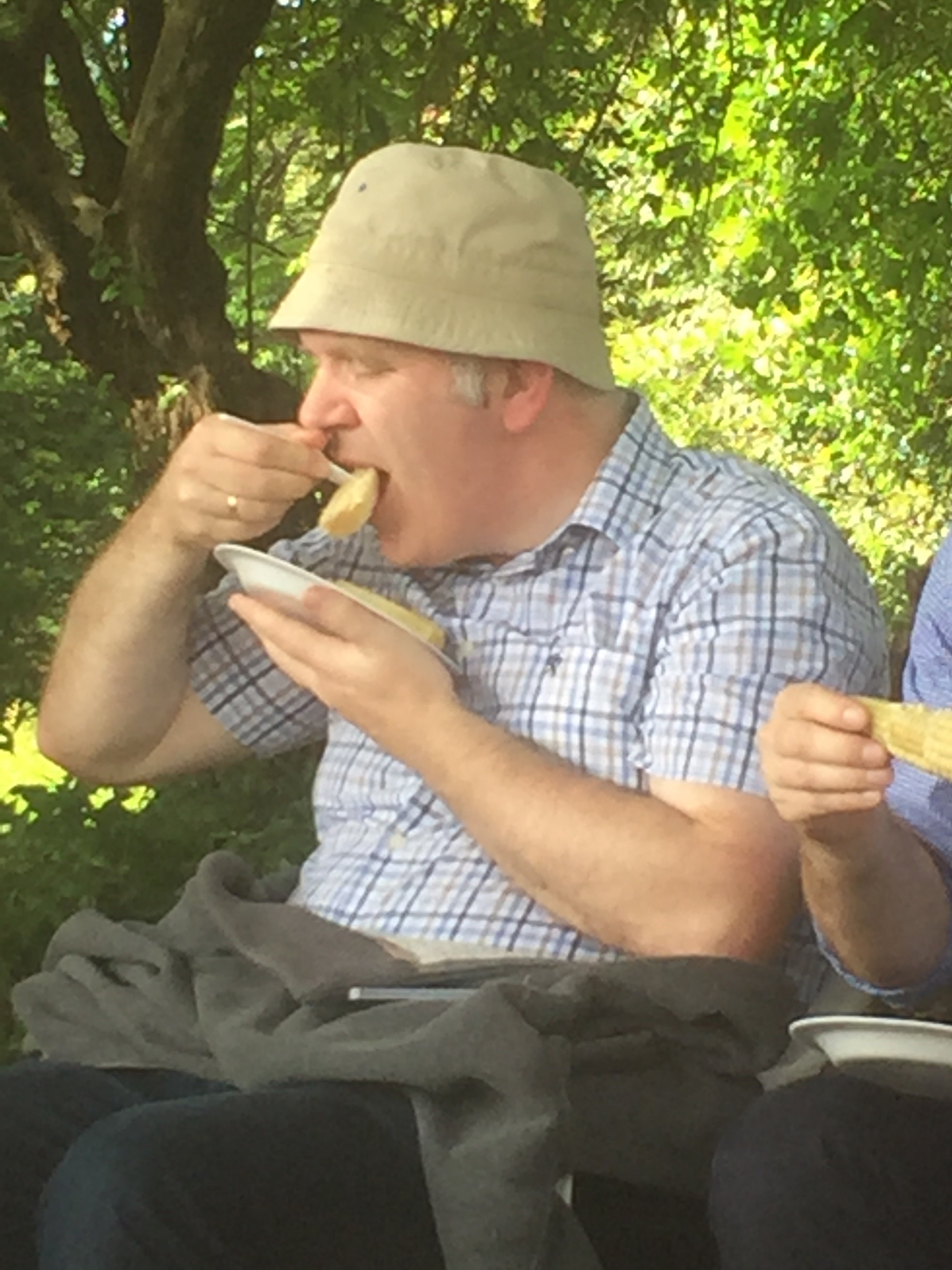 A number of women spoke about how much this work means to them and how thankful they are to God for the harvest. As was the case in most of our meetings children were present. They brought a lovely touch of innocence and, maybe hope, to what were difficult scenes. Children can focus our minds on the future but also on the need to mind them now.
Chances are that, with water, are the common denominator in many of the stories we were privileged to hear over the past six days.
In a picture which, like all pictures,tells a thousand words, I'll leave the final word to the children:
HONDURAS DAY 7
We visited the Cathedral in Tegucigalpa on our way to the airport. It's the Cathedral of Michael The Archangel and is truly beautiful.  We spent a bit of time there and its size allowed for space and its space allowed for prayer and the prayer was a connection with people we'd met over the days and people we know that might be in need of a prayer (who isn't?)  I'm glad we had the chance to visit …..
_____________________________________________________________________