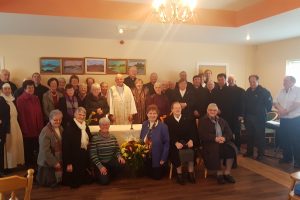 On Sunday, February 4th, Bishop Brendan gathered with the Religious of the Diocese and a number of our diocesan priests and laity to pray with and for all who have given their lives in service of the Religious Life.  This was Bishop Brendan's last official engagement in the diocese before he takes up his new role as Bishop of Galway on Sunday next.
He spoke of the absolute need for faith and trust in the future; "We can't go back", he said "like Jesus in this weekend's Gospel, we need to go elsewhere …. in prayer, Jesus received and found what he needed to carry on".  He reflected on his own move to Galway and that the future is totally in God's hands – as is all of the future.  "Religious life is always about encountering people, encountering where they are."  "Churches", he said "were built so that people could gather together and be alone in the encountering of Jesus."
His encouragement to all gathered was to keep engaging with people – meeting and being with them for that is the core of the Religious calling.
He used the occasion to thank all the Religious of the diocese for the wonderful support they had been to him over the past ten years.  He asked them to continue to keep him in prayer as he will keep them.
Fr Steve Gibson, CSC, spoke on behalf of all the Religious gathered and wished Bishop Brendan every success in his new role and concluded with a prayer of blessing.